Food Chain - by Paul Hughes

Rating: Excellent
Product type: Addictive Game
Platform: PowerMac, Macintosh
Operating system: MacOS 8.5 and earlier
Developer: Cajun Games
Website URL: http://www.CajunGames.com/
What a great game, if a little whacky. I was hooked from the moment I played it and still am after playing it for the last 10 hours [Well give or take a few hours]. Maybe it doesn't have a lot of game to it but it's very addictive. You could say it's like Tetris or Columns [very addictive but also annoying when you make a mistake]. If you are not looking for a game with a story line [Command & Conquer] or complicated tasks to do [Escape Velocity Override], then the game is perfect for you. It also has a nice small price tag which makes it even more attractive!
Well I guess you want to know what the system requirements are then.....
At least a 68040 [Apple Quadra, Performa, Centris or better].
System 7.1.2 or later.
5 Mbs Free Ram [I would recommend at least 3 Mbs of proper RAM and maybe 2Mbs Virtual Memory]
9Mbs Hard disk Space [HFS] or 8.1 [HFS+]
CD ROM or internet connection [No required speed on CD ROM as you have install the game]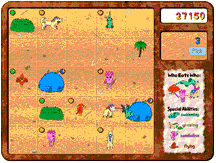 Food Chain is a strategy-board game based on the delicate balance of nature, where cartoon creatures must eat one another in order to survive. You control the fate of the creatures in this turn-based game of predator and prey by deciding who will eat and who will be eaten. Easy to learn, but difficult to master, Food Chain will keep you coming back for more!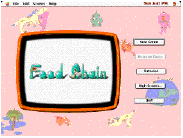 One of the best things I liked about Food Chain is its great HCI [Human Computer Interface]. It has very attractive colours, an easy to use system and a good graphic display. It would be great for the whole family. Looking at it, it looks like a childrens game but when I started to play it I changed my attitude towards it. Even my friend liked it.
Still, the first thing that will be on your mind when you're playing this game, is that it is a board game. It may have the layout of a board game, oh and maybe the feel of a board game but it certainly is not a board game. It's too good to be a board game. Game designers now try to complicate board games, but is what is great about this game is that it's VERY simple.
Sound / Music
Well there is not much to say about this. It has what you would expect from it. Some games, I feel, take music as being central to its playability, which I don't always agree to as I sometimes prefer it off.....well you may say this is just because I don't like music but then why would music be my second largest hobby [only too the computer, I might add]. I would say that the sound is just right for me!
Problems / Bugs
I have been playing it for the last few days on both my 68K laptop and my PPC tower and I have found no errors or bugs. It is so great. Nothing seems to be wrong with it. I have installed all the extensions on my computer and taken it down to the minimum and it is still fine [maybe a bit slow]. If you find an error/bug with this game I'd love to hear from you. I don't think there are any [!].

Food Chain Retails at: $14.95 [With CD] or as an unlock code for $9.95 [about £15.00]. More information is available on pricing from their web site at http://www.CajunGames.com/

Paul Hughes
OnLine Publisher 1984 Magazine
paul@1984-online.com
©1998 Retrospective & 1984 OnLine.
Used with permission.