This ain't your regular arcade air hockey. Get ready to play air hockey like you've never played before. It takes determination and good reflexes to defend your goal from the speedy puck in this game. Play against five different computer opponents or you and a friend can battle it out on your choice of 15 unique tables, many of which have nifty pinball and fantasy features to liven things up!
Screenshots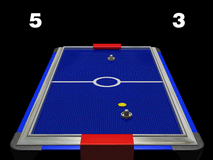 Standard table screenshot (640x480, 70K)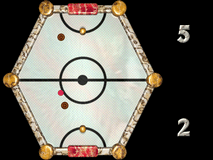 Hexed table screenshot (640x480, 123K)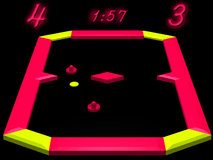 Double Trouble table screenshot (640x480, 45K)
More screenshots will be added as they become available.
Features
Realistically modeled physics so it feels like you're playing the real thing
15 different tables, some with pinball features like bumpers and gates, some with fantasy features like teleporters
Five different computer opponents, each with their own playing styles and skills
Play against your friends over a local area network or modem
Your choice of overhead or front view of the table
Tournament play to challenge your skills and endurance
Availability
überhocken is currently in development and will be available for Apple Mac OS and Microsoft Windows. Stay tuned for updates on its progress.