Food Chain is a strategy-board game based on the delicate balance of nature, where cartoon creatures must eat one another in order to survive. You control the fate of the creatures in this turn-based game of predator and prey by deciding who will eat and who will be eaten. Easy to learn, but difficult to master, Food Chain will keep you coming back for more!
Screenshot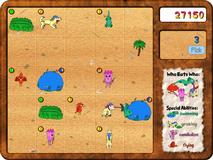 Screenshot (640x480, 75K)
Features
Filled with lively animation consisting of over 1500 hand-drawn cartoon frames
Lots of great sound effects
Addictive, thought-inducing game play
Low system requirements, so you can play it while doing tasks in the background, such as downloading from the Internet
Fun for all ages
Reviews
Availability
Food chain will be released soon through a third-party publisher (more information will be available shortly). Both Microsoft Windows and Macintosh (including OS X) versions will be available.
High Scores Contest